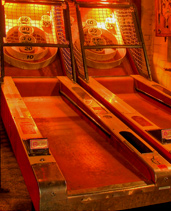 As a true competitor, your athletic prowess extends well beyond the realm of traditional sports.
Thumb wrestling. Lawn darts. Competitive martini shaking.
So you'll be pleased to know that the H Street Country Club, that great bastion of booze-aided athleticism, is quietly forming and registering teams for what we expect to be one of the most intensely competitive sports leagues in the District: the
Washington DC Skee-Ball League.
You already know the Atlas District watering hole as a place for serious sports, with its dastardly mini-golf course. But here, it turns its sporting gaze downstairs, toward the pair of vintage boardwalk machines (like something out of an early Springsteen song, just with less Aqua Net).
Naturally, this is a team sport, so you'll need to assemble four more extremely well-conditioned gladiators (ideally from the Jersey shore) with appropriate skee-ball attire (we're not sure, but we think this should involve a monocle).
Beginning Nov. 15, your team of five will play every Sunday or Tuesday night for five weeks, with a one-week playoff. When you emerge victorious, you'll be bathed in glory and showered with the champagne of beers as you hoist your engraved, Stanley Cup–esque trophy overhead.
More importantly, league players get discounted drinks all night.
In other words, everyone's a winner.