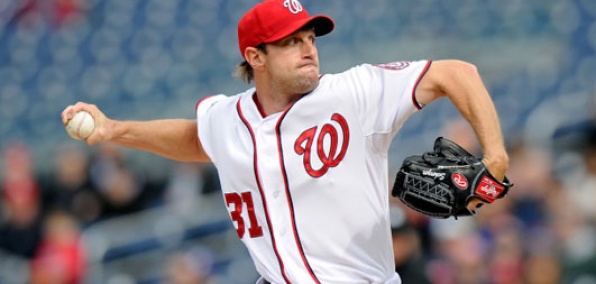 In his first four months as a National, $210 million man
Max Scherzer
has already thrown a no-hitter and is vying for the Cy Young Award. Now, he wants to challenge you at fantasy football. On August 22, donors to his new charity, Big League Impact DC, will face off against Scherzer, Bryce Harper and other Nats in a live fantasy draft. We caught up with the team's ace to talk football, chocolate syrup and how one celebrates a no-no. Read the entire interview here.
UD: You've been here a few months now. What are some of your favorite spots to get to on your days off?

MS: We love to go out and get sushi. I really like Sei. They've got some great rolls there, some of the best I've ever had, like the salmon, strawberry and avocado.
UD: How and where does one celebrate a no-hitter?
MS: It was perfect timing. My friend's dad had brought up some crawfish étouffée from New Orleans. They had a huge batch of it, so we just sat there in the family room eating crawfish étouffée. And my catchers, Wilson Ramos and José Lobatón, have been great all year, so since then I've gotten them each a Hublot Big Bang watch to say thanks.
UD: Speaking of celebrations, where did the postgame-chocolate-syrup thing come from?
MS: It started at Atlanta. We were down 9-1, and found a way to come back. It was one of the best regular season wins I'd been a part of. Dan Uggla hit a big home run for us. So I ran into the kitchen and I said, "What can I get him with?" And there was the chocolate syrup. So I put it all over his face and that's how it started.
UD: How did you get involved with Big League Impact?
MS: [Cardinals pitcher and charity founder] Adam Wainwright reached out to me when I was in Detroit. And I loved his idea. I wanted to help him out. It combined charity with fantasy football, something that the fans and us both enjoy a lot. And here, we're supporting three great charities.
UD: Are you a big fantasy football guy? How competitive will this get?
MS: Yeah, I've been doing it for about 10 years. We're pretty cutthroat in the clubhouse. Everybody is trying to make trades [during batting practice]. I think it's going to be right up my alley. It's all about everyone trashing each other.
UD: Finally, did you get a Jayson Werth chia pet on Wednesday?
MS: No, but we definitely made fun of him when he was going up to the plate. We were yelling, "Ch, ch, ch, chia!"