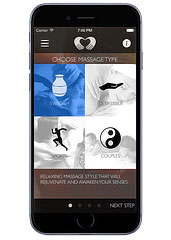 Getting a 90-minute Swedish massage: pretty great.
Getting to and from your 90-minute Swedish massage: not so great.
We have to believe that the traffic messes with your chakra. Or something.
Good thing the massages now come to you.
Cue up a playlist heavy on sparse piano and crashing waves, because here's
Soothe
, an on-demand massage service out of Los Angeles, now live in DC.
Go online, or pull up the smartphone app. It's one of those deals that store your credit card and take care of gratuity. Naturally. But it also summons a masseur (or masseuse) to your home, office or hotel room in as little as an hour. Because sometimes your cable goes out and your deep-tissue massage suddenly can't wait.
And they book appointments until midnight every day, should you be in the mood for an 11pm couples massage.
If your group happens to be larger than two, they'll bring out a whole team of shoulder-rubbing experts to give chair massages.
Your fantasy football draft is about to get better.