We don't know your family traditions or what the holidays look like at your house.
But we do know that forced family time is a great excuse to mix up some drinks.
And while we'd never complain if someone hands us a beer, glass of wine or sneaky whiskey shot, visiting in-laws are a lot more likely to encourage your drinking when it's a festive cocktail you brought to share with the crowd. Like this rich and delicious S'mores Milk Punch from the Chandelier Bar at Four Seasons Hotel New Orleans.
"In New Orleans, the Milk Punch is practically a holiday in itself," says beverage director Hadi Ktiri. "At brunches all over the city you'll find scores of people enjoying this classic New Orleans eye-opener."
The hotel's version leans into the holidays and nostalgic memories of sitting around a campfire, and above all, it just wants to have a good time.
"There are a lot of ways to make drinking with friends less serious and more fun, and our S'mores Milk Punch is just the first of many ways that we want to bring fun back into cocktail bars," says Ktiri.
Here's how to make it.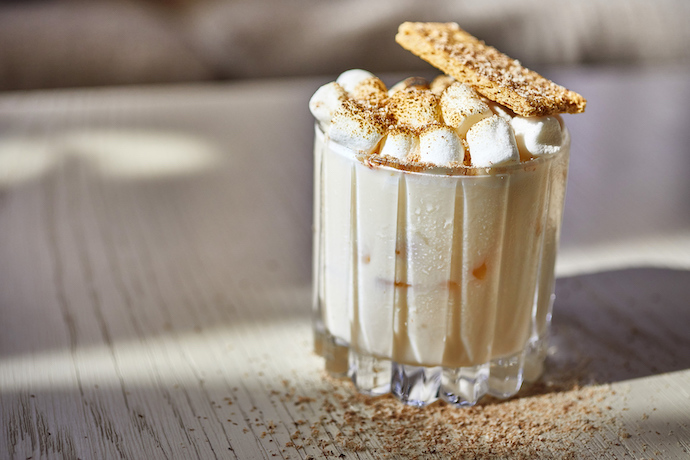 S'mores Milk Punch
Ingredients:
1 1/2 ounces bourbon
3/4 ounce Tempus Fugit Creme de Cacao
1 ounce heavy cream
1/4 ounce simple syrup
Instructions:
1. Add ingredients to a shaker with ice, then shake until chilled and strain into an old-fashioned glass.
2. Top with mini marshmallows, and flambé until lightly toasted.
3. Top the toasted marshmallows with graham cracker and freshly shaved nutmeg.