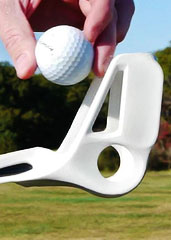 Things that you didn't know about yourself, sports edition.
1. You kind of like the Kansas City Royals.
2. If you've ever thrown a lacrosse ball, you can play golf.
Here's what we're talking about:
FlingGolf
, a new form of the game that has you whipping the ball down the fairway, LAX-style. You can now play it at Forest Greens Golf Club in Virginia.
Unlike, say, disc golf, you do this on an actual golf course. Without the pesky part of, you know, teeing it up and trying to hit it straight with a driver. Or carrying 14 clubs.
One club will do. They call it, unsurprisingly, the FlingStick. You pick the ball up with it, then give the ball a big sidearm or overhand toss. You can throw the ball high, throw it low and, yeah, you can throw it into the woods. You also putt with the thing.
If you're still getting used to the idea, Forest Greens is doing 30-minute demos on the driving range this Saturday, after which you can play a gratis three holes.
You can still wear awesome pants.