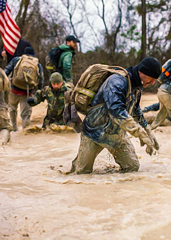 Let's get one thing straight: you're probably going to do this mostly just to say that you did it.
Because this involves an hour of grueling physical training. Followed by 23 more hours of the same.
Better start doing some push-ups now to prep for
Goruck Heavy
, an entire day of Special Forces–style training, now taking registrations for December 5 in DC.
We've told you about these guys. They started making military-grade packs, then conducting 12-hour training sessions to test said packs. Shockingly, that wasn't enough for some people.
That's where this comes in. You'll show up at the as-yet-undisclosed location at 9pm to meet your instructors (an active operator and an active trainer of operators). They'll put you through high-pressure scenarios designed to test leadership and teamwork—while you cover 40-plus miles with 35 pounds on your back, and help your team carry a 50-pound weight and an American flag.
If you're unsure about your legs' capacity to handle all that, there's another option. It's called Goruck Trek, and it's a three-day course on urban spycraft and clandestine ops, taught by intelligence pros.
Yes, you can bring your Spy Tech.