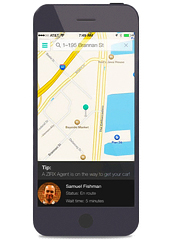 You know what's monumentally absurd?
Driving around, looking for a parking spot.
This is 2014. Your phone can summon
tailors
and
lasagna
.
It should really be able to summon you a valet... wherever.
Okay.
All you had to do was ask for
Zirx
, a life-changing new app that'll deploy a valet when and where you need it, now in soft-launch mode.
Yes. It's like Uber for valets. That's a thing that must be said now when an app brings you something you need and holds on to your credit card info for easy payment, right?
Anyway, just picture your new life. Say you're about to drive to AT&T Park. Rather than dealing with the usual existential angst, pull up the app. Drop a pin at your destination, check out the wait time for a valet and plan accordingly.
Yes, your valet is vetted. And wearing a Zirx jacket. And their picture is in your phone. And your car's parked in a secure lot. And they're insured for lots more than your car is worth.
And yes... if you end up at Hog Island in the Ferry Building, they'll happily return your car to a different place than where you left it. (They're only operating in SoMa now, but expansion is happening quickly.)
All that's missing is the stand with the little umbrella.
Sorry.