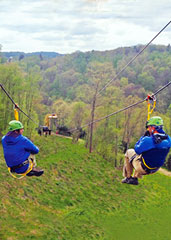 Helmet. Check.
Closed-toed shoes. Check.
Harness. Check.
Only one thing left to bring: your obsessive desire to finish first.
Time to prove you can exploit gravity better than the person next to you at the
Fatbird SuperFlyer
ziplines at Nemacolin Woodlands Resort, which have you racing another person 3,000 feet down a mountain.
You may be familiar with this place in southern Pennsylvania. You may even know they had a zipline. Well, now it's better. For starters, it now goes clear down the whole mountain. And also: there are two of them, side by side. So yeah: racing.
Bring an adventure-minded date. Bring a buddy with whom you have an old, pointless score to settle. Or just stand on the platform, point obnoxiously to the zipline and proclaim that you "got next."
The guides will clip you in, give you the basics and have you hurtling down a 1,600-foot stretch, 60 feet over the ski slopes and pond. You'll automatically brake to a stop at the mid-platform, then you'll go down another 1,500 feet.
For a little extra tip, they'll make sure you win.