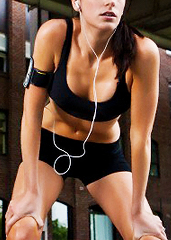 This time of year, you start to face a conundrum: you know you should really get yourself to the gym, but with the weather breaking, the last place you want to be is... the gym.
What you need: a gym that drags you outside.
Something like
Urban Athletic Club
, a new outfit that puts you through the paces in the fresh air, now open.
This is the gym equivalent of a date who really doesn't want to show you their place, they just want to go out. Not that there's anything wrong with this place. It's got the usual Olympic barbells, kettlebells, cardio machines, some sandbags, some cones.
But it's underground. So you'll want to get into their primary training program, which has you meet a group and a trainer at the gym, then head out into the city—maybe into Rock Creek Park, maybe along the C&O Canal. You'll definitely stop along the way for push-ups, stump jumps and all manner of functional exercises.
But sometimes, you'd just rather not be outside. Might be raining, might be too windy for your hair. Whatever. In that case, you can opt for their strength training, yoga or "row-con," almost like the rowing version of a spin class.
Drowning risk: low.