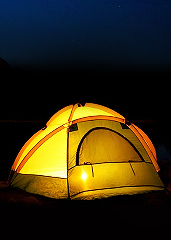 It's almost pool-party season. Time to tick off your list of usual essentials:
—Bathing suit
—Floating iPhone case
—Towel big enough for two
Well, better add a tent, sleeping bags and pillows, because this time you're staying over.
At this: the
WPA Sleepout
, a 12-hour, BYO-bedding pool party at the Capitol Skyline Hotel. Tickets are available now for the all-nighter on April 20.
Sure, you may have been to a pool party here—it's what they do. And what you do is have a few drinks, listen to a DJ and announce that you're a golden god before jumping in feetfirst. But now you can also hang around until breakfast the next morning.
Oh, and because this is organized by some artistic folks, you can do lots more, too. Like take in some classic horror-movie scenes in the lounge. Or check out a stuffed-animal art installation. Or accompany an artist inside a closet for seven minutes for a project she calls "Seven Minutes in Heaven." (Better get your talking points in order.)
You'll cap things off with some s'mores and a round or two of karaoke before you return to your tent, pitched carefully at your poolside spot.
Feel free to dunk someone's hand in the water if they fall asleep.