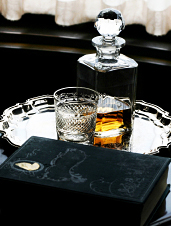 Here you go again: it's a Sunday night, you're at an undisclosed location, and important people are asking you for impromptu cultural criticism.
Only this time, you're not at Camp David. No, this time you've got an exotic cocktail in your hand, silent films are playing on the wall, and a chef is putting the finishing touches on the first of seven courses.
Introducing the
No. 68 Project
, a new series of culinary (and cocktail-ery) excess, with just a little bit of high-mindedness thrown in.
Fresh off a successful run in England (at 68 Boleyn Road in London, hence the name), this is the kind of supper-club-cum-salon that Malcolm Gladwell would love.
It's about the conversation as much as the food, so you'll answer a few clever questions (nothing you can't handle) to
win your invite
and learn the location (again, not Camp David). Meanwhile, some of DC's top food and drink talent will be dreaming up five to seven courses to aid you in matching wits and charm with your 44 dining companions (for the kickoff dinner, it's Mike Isabella of
Top Chef
fame and Derek Brown from the Columbia Room).
You'll also see a film curated by the DC Shorts crew, and hear from novelists, artists and even guys like Dr. Ogi Ogas, who's been a Homeland Security consultant, author on human sexuality and winning contestant on
Who Wants to Be a Millionaire
.
You'll have plenty to talk about.