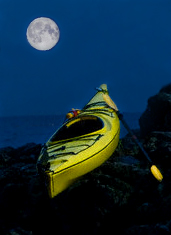 It's nighttime. There's a full moon. You're quietly paddling your way across a still stretch of river.
You are either: a) filming a movie with Ice Cube, awaiting the appearance of a giant tropical snake, or b) on a date on the Potomac.
Hint: it's probably b). Welcome to
Moonlight Kayaking with River & Trail Outfitters
, now taking bookings for September's full-moon excursion.
Think of this as the date scene at the beginning of "Thriller," only on a boat. And you're wearing a lot less werewolf makeup.
You'll arrive in tiny Knoxville, Maryland, a stone's throw from Harpers Ferry, check in and choose your vessel (in addition to two-person kayaks, they've got two-person canoes). You'll start out by following your guides upstream, just as the sun begins to set. About halfway into your two-hour trip, the light will go flat, the moon will come up over the trees, you'll break out a flask of hot rum, and then... deliver that tour de force of a romantic line that you've been sitting on all day (something involving the nape of her neck and the arch of her foot).
Now, if that romantic line inspires a dark, nocturnal dip into the water, you'll be happy to know that thanks to the flat, shallow water, you won't freeze.
And the same holds true if she tosses you in.