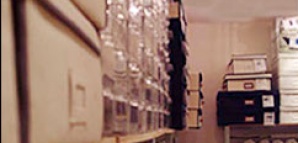 Your closet isn't always the first thing on your mind, but as it gets chillier, you're going to be spending a lot of quality time up to your elbows in summer wear, digging for that v-neck.
Might we suggest a more efficient solution:
Garde Robe
is here to make your closet a little more virtual.  First, they'll relieve your unfortunately sized closet and take everything you don't need down to their loft. Then, if you feel the need to gaze upon those white pants one last time, you can browse through all the items they're holding for you on their website, divided up by category. And if you decide to wear the
seer sucker hoodie
to Thanksgiving, just give them a call and they'll bring it straight to you, wherever and whenever you want.
You can also do a little off season prep with Garde Robe's staff seamstress and professional image consultant, and their packing service will make sure nothing gets too wrinkled. There's even French hand-laundering, if you're worried your shorts are getting dusty in storage.
And the Garde Robe loft has round-the-clock security, so you can be sure your flip-flops won't fall into the wrong hands.
Or on the wrong feet.