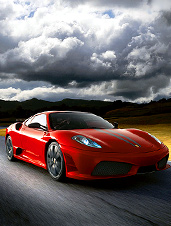 It's hard to separate man and machine. Steve McQueen and his Mustang. Bond and his Aston. Michael Dukakis and his tank.
And now, you and your Ferrari... and your Maybach... and your Maserati.
Which brings us to
Xautx
, a new local sports car-sharing club now taking members for a late spring launch, all in the service of adding more horsepower to your next sunny weekend escape.
Think of this as your turnkey way to live the life of a Greek shipping heir, even if you've never seen a bill of lading. Here's how it works: the next time you're planning a romantic retreat to your Eastern Shore beach house (or even some less romantic time with Cheney and Rummy), you'll go on the website and peruse the available lineup of European beauties.
We have it on good authority that a Ferrari, a Maybach and an Aston Martin may be in the mix—but that's where your well-developed taste comes in: early members can weigh in on which cars make up the initial fleet. (Time to put those vote-whipping skills into action.)
When the day arrives, you can pick up your ride here in town, or in Maryland or Virginia, or arrange a pickup. They'll take care of your Monday-to-Friday car (the Rolls) in the meantime, and even detail it for you while you're out there trying not to run afoul of Johnny Law.
Although you do have more horsepower than he does. We're just saying...