The mass adoption of flying cars is still a ways off.
And, despite what we were promised by James Bond movies, the submarine car never materialized.
It's enough to make any vehicle aficionado hang their head in disappointment.
But today, we bring some good, albeit smaller, news.
Your bicycle can now double as a snowmobile.
Meet the ENVO Electric SnowBike Kit. It lets you transform almost any bike into a motorized snowmobile, perfect for transporting yourself through winter's harshest conditions.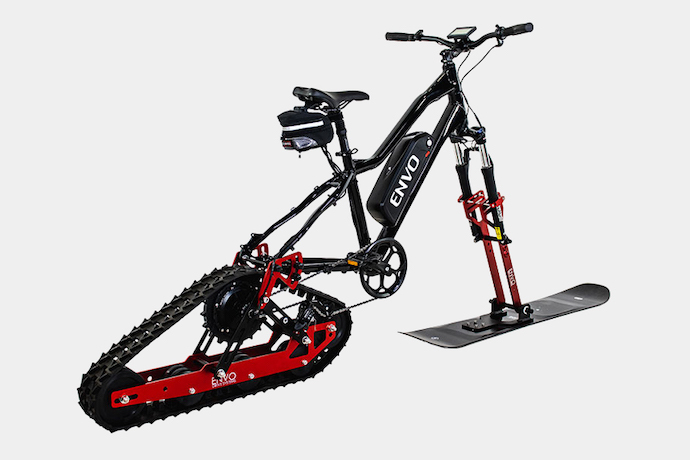 The lightweight kit is easy to assemble and includes a rugged electric snow track in the back and a snowboard in the front. If you want a workout, you can power the track manually. If you don't, let the battery and motor run at full throttle for an hour, while you sit there and steer. Or do a little of both with the pedal-assist feature, and you can keep the battery humming for up to four hours as you navigate over icy roads and up snowy hills.
To engage the motor, press the thumb throttle, just like you would on a real snowmobile. And consult the screen in front of you for all the pertinent data, like speed, mileage and battery charge.
Then when spring rolls around, you can quickly disassemble the kit and return your bike to its former glory.
Which will probably be a bit of a letdown.