When you're out camping, you have enough to worry about.
Like finding a good spot to settle down, dealing with unexpected rain, and whether that rustling outside your tent is just the wind or a nosy bear.
So the last thing you want to think about is how you'll turn that pack of food into an enjoyable dinner, lest everyone goes hungry.
Much easier than putting down a mutiny is to simply bring this modular cooking system by iKamper. Dubbed the Disco Series, it's got everything you need to cook over open flames.
Over the past few years, iKamper has made an innovative rooftop tent and a portable kitchen on wheels. So, they know how to bring some functional comforts to outdoor adventures. The Disco Series follows the same path, combining several helpful items into one cooking solution.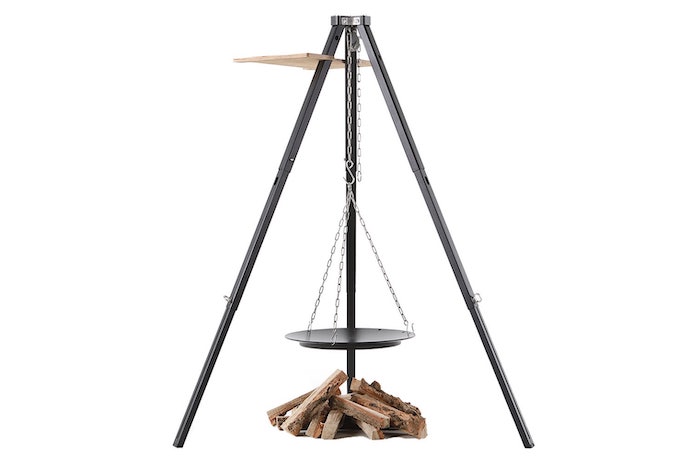 The adjustable tripod includes a pulley system and chain, so you can safely raise and lower the non-stick cast-iron skillet over an open fire. There's also a stove that can accommodate the skillet or your own pots and pans, should you prefer a smaller flame—simply turn on the gas, press the ignition button, and start cooking.
Then there's the table, which attaches to the tripod, so you have a surface for cutting and prepping ingredients. It also includes two cupholders to firmly secure your beer while you work.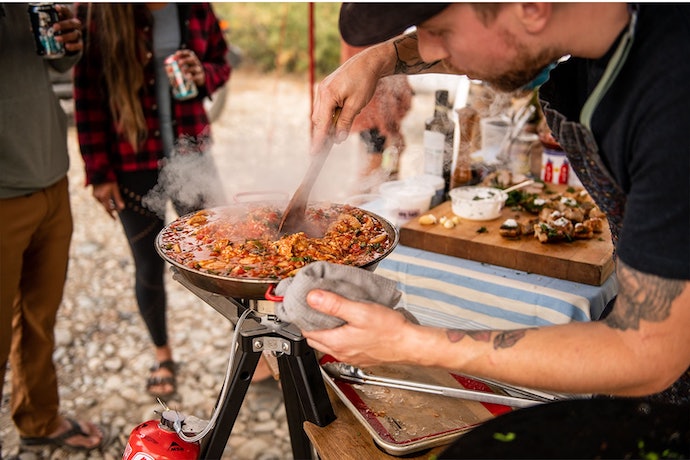 Set this up on your next camping trip, throw a few steaks on the skillet or some chili on the stove. You and your friends will be happy and well-fed as you fulfill one of human nature's most primal desires—cooking over an open flame.
Minus any of the actual hard stuff, like hunting and foraging.