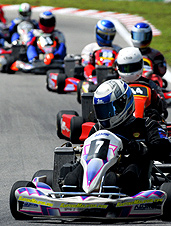 Right now, the week feels full of possibility.
But by Friday, after another tough week of making the world safe for freedom and democracy, you'll need a release—the kind that only comes from driving frighteningly fast inside a very small vehicle.
Welcome to
Summit Point Kart
, a temple of fresh pavement, bright stadium lights and top-speed go-karts, open now just over the West Virginia border.
Now, first things first: these aren't the rickety go-karts and tiny ovals you drove around during childhood. These are brand-new, 13-horsepower karts that can hit 55 mph on the half-mile course. (Once you master these rides, another one awaits—capable of going 74 mph.)
When you arrive, you'll get a helmet and a pair of fire-retardant racing coveralls (if you have sponsorship obligations, feel free to bring your Wonder Bread logo to stick on your chest). Your starter will line you up, then wave the green flag—and for the next 11 minutes you'll hurtle through the course's 11 tight turns and 1,000-foot straightaway. Just beware the skid pad on the back stretch, where you can show off those drifting moves you picked up on the mean streets of Tokyo.
When you're done, you'll receive a sheet listing your lap times.
And then, next Monday, you can start assembling your pit crew...