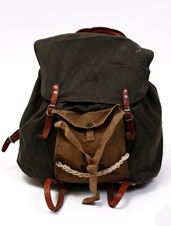 The weekend is calling, and we know you're about ready to get the hell out of dodge.
But before you go, you'll want to have something military-strength along for the ride.
And until
David Petraeus accepts your invitation to tag along, there's Farm Tactics, a new line of ruggedly handsome weekend-worthy bags made from vintage WWII carryalls, available now.
The way we see it, your road trips are already a thing of beauty—whether you're crashing with an old friend, hosting a couple of nubile new ones or just doing a little spring cleaning at your pad on Lake Como. Farm Tactics will simply help you properly prepare for such a jaunt—after all, many of these bags have served in at least two theaters of war.
Each of their bags is sourced from the military—either from the peace-loving Swiss circa the 1950s, or from soldiers stationed at Pearl Harbor in WWII. Some even have hand-written notes inside them from the era. ("Someday, I will be portrayed by Tom Hanks.") Our favorite, though, is the
Field Bag
, made from old Dutch military bags and outfitted with a special pocket that was originally used for carrying a gas mask.
So it can probably withstand a merlot stain.