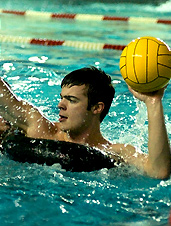 Polo. You can picture it now: a Saturday afternoon in Leesburg. Pastels galore. Avoiding the Salahis.
But perhaps there's a more refreshing way. A wetter way. And, dare we say it, a boozier way.
Which brings us to
Inner Tube Water Polo
, your latest athletic opportunity from the geniuses who brought you kickball, broomball and the World Series of Flip Cup, registering now for a May 4 start.
Just like in Olympic water polo, your job is to get the ball past the goalie. Unlike in the Olympics, you'll be comfortably above the surface, eliminating the need for all that tedious treading of water.
Your goal: gathering 10 to 15 like-minded friends and ringers for a seven-week test of grit, stamina and dog-paddling at the summer tiki party better known as the Capitol Skyline Hotel. An Olympic pool it's not, so you'll play five a side during the co-ed, twilight matches. Your cocktail will have to remain on the sidelines, but not to worry: after 45 minutes of splashing, you'll retire to the bar for some fraternizing. (You're no Benedict Arnold, but the other team's goalie has a certain appeal...)
The league provides the tubes, rules and referees (because you never float around in an unsanctioned environment). You'll provide your team's chalk-talk strategy sessions.
And mandatory bathtub training exercises.