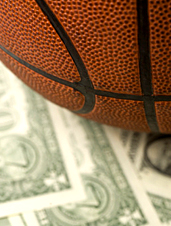 You've got a feeling. Those scrappy Butler Bulldogs are going to keep it close tonight.
You're even inclined to put your money where your mouth is. That said, you've never been one to let feelings guide your decisions—instead, you need hard, cold data.
Which brings us to
Track the Bet
, a new online app that uses your own betting history to find the most profitable way of placing a bet.
Think of it as a bookkeeper that pits you against your bookmaker. You'll start by entering your current bankroll, and then every day you'll return to check out the day's lines, and log your recent wagers.
Now, if gambling were legal (or if you just so happened to know the disposable cell phone number of a guy nicknamed "The Claw"), the charts, graphs and data from this thing could really come in handy. You can check your return on investment for bets you made on home underdogs in the NHL's Southeast Division. Or your win percentage playing the money line on George Mason games this year. Or just how profitable the "whoever's playing the Nats" strategy can actually be.
Then you'll generate weekly or monthly bankroll statements—otherwise known as virtually flipping through all the Franklins and Jacksons that your hours of research have earned you.
Call it your own "One Shining Moment."