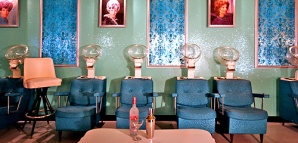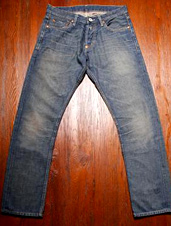 Over the years, some simple pleasures have remained simple.
Jeans. A T-shirt. The monumental achievement that is "Oops! ...I Did It Again."
But for now, let's focus on the first two.
Welcome to
Denim Design Lab
, a new site devoted to bringing you great denim and only great denim, online now.
If you're a jeans-and-T-shirt type, this is your store. Because that's all they sell: jeans. And T-shirts. Which means that pulling off an iconic, movie-star-worthy look—one that makes you look like Newman in
Hud
, Brando in
The Wild One
or Swayze in
Road House
—is back to being as simple as it was meant to be.
On the site, you'll have a handful of designy T-shirts and about 30 pairs of jeans laid out before you—all of which more or less fit like old 501s. All of them have classic details (button flies, old-school rivets) and are designed to withstand a good beating—whether it comes from a little old-school prospecting for gold or just some spilled Bordeaux.
And since such decisions shouldn't be made without expert precision and timing, you should know that these guys have literally written the book about denim—their
Denim Encyclopedia
is a massively influential document that will be studied for generations by jeans historians.
It's a growing field.