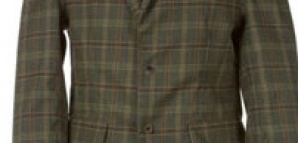 Ordinarily, your snowboarding wardrobe and civilian attire could never intermingle. But with the right jacket, you're more than ready to go out on a limb...or a slope.

Well, we may have found the right jacket. Two years after collaborating on high-end streetwear, classy Brit designer Paul Smith has again joined with Burton Snowboards to create the most sophisticated athletic gear we've seen in some time.

Style-oriented touches (like hidden lining details) mix with functional considerations (like heat-welded seams and high-performance water-proofing) to ensure that, finally, you can bring some style to Big Bear that looks good going down the mountain, and at the base lodge.

Start with the dark gray, three-layer trenchcoat. It's snow-proof, with magnetic buttons securing the pockets for optimal snow-caked practicality. And the slim-cut twill snow trousers address your preference for looking taller than you are wide, heretofore impossible while indulging in snow-related activities.

While you're browsing, you'll also likely enjoy the English twist on the pole-friendly pièce de résistance—the Limited Edition Mark XIII hacking jacket. The plaid, single-breasted sportcoat could almost be worn with a tie instead of goggles. For now, select items are now available online only, though you may soon see them in the Melrose boutique as well.

Think of them as sartorial carrots for all those snow bunnies.