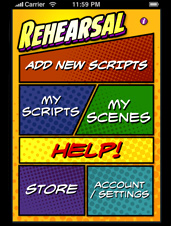 Today we're here to help you with the quintessential Los Angeles experience.
No, we don't mean spotting Jason Priestley in line with soy milk at Ralphs—we mean totally nailing your lines at your next big audition. (And even if you don't have a next big audition, you may want to land one after you see this app.)
Introducing
Rehearsal
, helping you get from the callback to the set, now available.
Basically, it's a little like having Stella Adler in your pocket (or at least the housekeeper you normally run lines with). When your agent sends over your sides, just import them into the app and start breaking down your character, wherever you are. You can highlight your lines, black them out to see if you remember all of them, and record yourself and play it back until you get the inflection/smoldering intensity just how you want it.
And if there's something you want to use for motivation at a particular turn—a lazing palm tree, a plastic bag dancing in the wind, a mirror—you can capture a quick photo or video, and attach it to the relevant bit of dialogue.
We'd say you're a lock for Pedestrian #3.