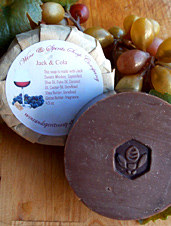 There will be times when you'll show up for work and a simple fact will be unmistakable to everyone around you: you smell like whiskey.
So we're happy to report that we've found a socially acceptable response: "It's my soap."
Introducing
Wine and Spirits Soap Co.,
your new online home for booze-soaked grooming products, available now.
Basically, it's an airtight excuse for stumbling into the office reeking of gin, vodka, beer and/or wine. Whether you choose to actually indulge in a little early-morning recklessness is up to you, of course, but if you do, you can thank a gang of suds aficionados from Knoxville, Tennessee, where easy access to Jack Daniel's is presumably a plus.
Log on to the site, and pick your grooming poison—the soaps are sorted by the base hooch. So to suggest a certain Southern charm (or just to cover up the whiskey you've actually been drinking), you can stock up on whiskey-based concoctions like
Hillbilly Homebrew
or
Jack and Cola
. (Or, as it's known in some circles, the
Keith Richards
.)
And, of course, to suggest the refined elegance that only smelling of wine can produce, you'll want to consider the array of merlot- and chardonnay-based bars. And you'll also find options made from rum, gin and even eggnog.
Basically, the best-tasting soap on the planet.