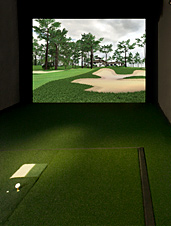 It's been months since you hauled the clubs out of the closet, and you're starting to get the itch.
So the way we see it, you have three options: hop a flight to the Dominican, brave the permafrost at Avenel...or head to an alley on Capitol Hill.
Presenting
Capitol Hill Golf,
bringing you all the pageantry (cue voiceover by Dick Enberg) of a round at Pebble Beach, but conveniently located in a Senate staffer's back alley.
Yes, you read that right—you can now play a (simulated) 18 in an alley, and they're taking tee times now. Pull in behind your host's row house (he's a fully licensed PGA pro), push open the door of the innocent-looking green shed, and behold as you enter a fully stocked clubhouse, packed to the rafters with all the clubs, tees and towels you'll need to survive a grueling round of stationary, room-temperature golf.
Your staffer-cum-sensei will set you up on the futuristic aboutGolf simulator, basically an enormous TV screen with sensors and a tee box attached. (It's what Tiger uses between tournaments/apologies). If you need some work on your driving, book a lesson, and the computer will measure every element of your swing while three cameras immortalize your smooth stroke. Or bring a buddy and play a full round at pseudo-St. Andrews.
Now, to figure out how to squeeze in your gallery of followers.