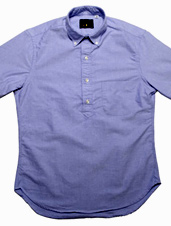 The world is a place of moral confusion.
Economic collapses. Natural disasters. Lady Gaga's
weird head thing
at the Grammys.
So it's safe to say you could use a dash of whimsy...
To that end, we present
Matt Singer,
a former
Jack Spade
designer and New York-based dude with a nice little line of menswear and miscellany, available now online to lighten things up, one turquoise belt at a time.
First off, there's nothing too crazy here—we're talking about preppy belts, canvas bags and oxford button-downs. But each piece has a bit of a twist—the belts come in colors like lavender and turquoise, the shirts are cut trim-but-not-too-trim and the waxed cotton handles on the bags are made using a secret process dating back to 1838 (back when they really knew how to wax some cotton).
The end effect is a group of subtle basics that defy the conventions of winter dressing—the kind of gear that is likely to keep your companions wondering if you were just magically transported into their company from a summertime boccie tournament in the Hamptons.
As for the aforementioned whimsy, Singer's also gathered a collection of vintage Omega watches and created knickknacks like a set of colored glass ashtrays featuring dogs the Soviet Union launched into orbit while testing the viability of space travel.
At this point it seems necessary to say that Dogs in Space would make a great band name.