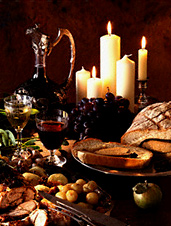 You know your way around a piece of meat. Marinating, grilling, saucing. We trust you with all of it.
Except how to get it. By yourself. Without the aid of your favorite meatmonger. We're talking hunting, cleaning and feasting. (Kind of.)
Introducing
Deer Hunting for Locavores,
a weekend-long crash course that will have you channeling Ted Nugent in no time.
Now first things first: this hunting weekend includes no actual hunting. But after going through the basics with your mentor—an insurance broker-turned-foodie naturalist who we'll call the deer whisperer—you'll spend all afternoon at the rifle range, honing your hawkeye and steeling your nerves for your next outing.
Once you retire to your inn for a whiskey and some well-deserved rest for your trigger finger, you'll wake to find that the hard part—actually tracking and killing a deer—has been done for you. But you'll still get your hands dirty, as you learn to field dress the beast.
Your reward: a few hours at a commercial kitchen, where you'll toast your new skills over bottles of Virginia wine (a.k.a., the gather part of hunter-gatherer) while you turn your bounty into seared venison backstrap, venison stew and anything else you and your new meat mentor can conjure.
Venison desserts are not advised.