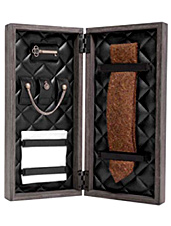 It's the dawn of a new decade. It's the heart of awards season. Also, it's Tuesday.
All important reasons to pay attention to those details that take your suit from just suitable to...ready for your next dinner party with Tom Ford. Allow us to suggest a box of
Gentry
goods, now available in a few local palaces of finer menswear.
Like a combo meal of high-end fashion accoutrements, your sleek wooden box from the LA-based brand's Fitzgerald Collection comes stocked with a dapper tie, pocket square, cuff links, tie bar, collar clip and tie pin all matched up and ready to go. So you're easily polished enough for the red carpet without needing to pull a stylist retainer out of your bourbon budget. You provide the shirt and jacket, and they provide everything else.
The Gatsby
comes in navy or black-and-white (for your average dinner deal-sealing),
The Carraway
comes in charcoal or brown herringbone (when you're feeling professorial) and
The Buchanan
comes in gray or black linen (for when you want to subvert the black-tie code, just barely). All function as breezy segues to your ripe party bon mots about 1920s literary expats.
And Pat Buchanan.