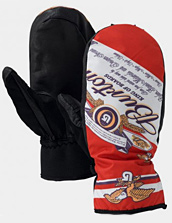 It's a problem that has haunted humankind since the dawn of time (or at least since the dawn of the pull-top can): how to keep your hands warm while enjoying a frosty beverage in the frostier outdoors.
We've found a solution: the
Vice Mitt
, the latest innovation from those cold-weather hedonists at Burton.
In short, it's the best pairing to come out of Vermont since cherry met Garcia. They've basically taken your standard vintage ski glove and surgically fitted it with an everyday beer koozie—in other words, a perfect example of how to use valuable R & D resources.
As a result, you'll be able to enjoy a tall frosty one before heading down that black diamond (or at least the Red Line, though you didn't hear that from us), all without getting your fingers stuck to the aluminum. Just unzip the pouch, unfurl the built-in cup holder and enjoy.
You can get one in basic black, but we like the ones that are patterned after vintage beer labels.
Now we're just waiting for the whiskey-lined earmuffs.