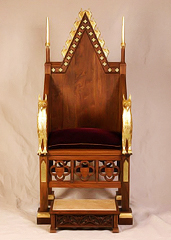 You're watching the new season of
Game of Thrones
.
Good.
You're not watching it while sitting on an actual throne.
Not good.
Here's how to change that:
Halldoor Woodworking
, a Bridgeport-based custom crafter of Gothic wood furniture, now taking orders.
Basically, this is just one guy named Gary "Hal" Link, a kilt-wearing furniture maker with a major interest in Gothic architecture, world history and carving. You know, that old story.
Anyway, he can carve you all the things you need for a happy and productive life.
An insulated beer cooler
that looks like something a pirate would have buried on a Caribbean beach: no problem.
A canvas tent for your summer camping trip
—or campaign across the plains of Asia—that features intricately carved poles: he can do it.
A stately coffee table that converts to an S&M bondage rack:
... let's just say you wouldn't be the first.
His real magnum opus, though, is a recent special order: a throne modeled on the 5-foot 10-inch coronation chair in Westminster Abbey that princes Charles, William and George will all one day sit on.
And if they ever need a multifunctional coffee table...