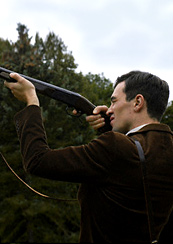 Sure, you throw a line in the water every now and again.
But one thing has always been missing from your deep-sea excursions: cold steel and a little firepower...
Remedying that deficiency, we present the
Cast & Blast
, a fall day trip on the Chesapeake that backs up your fishing prowess with some ammo, available now.
It goes like this: you and up to five friends arrive in the morning in Stevensville, MD, just over the Bay Bridge, and set out on the
Ellen-R
, a 45-foot charter custom built for the Bay. Shotgun in hand at the stern, you wreak your vengeance on sea ducks, as you enjoy a tasty beverage or two. And because nothing draws the fish like the smell of gunpowder and poultry, lunchtime is your signal to put down the cold steel and pick up your fishing pole.
You bring your Maryland hunting license (you can even grab a temporary one online
here
), ammo and shotgun (the nice one; the monogrammed one). Your captain, Jeff Ruth, a lifelong Maryland waterman, provides bait, tackle, fishing licenses, cleaning services…and a warm cabin on the boat, just in case you need to reflect on your exploits of the day.
Once you retire back home to your grill and a warming dram, you'll face the day's toughest decision at dinner.
Surf or turf.