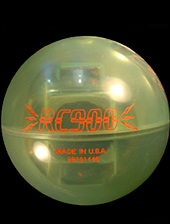 In this world, there are a few things that are so sacred, so holy, so sacrosanct, that they should never be altered in any way. For instance, the way you make an old-fashioned. Or Blake Lively's body. Or the bowling ball.
With that in mind, please prepare for a little sacrilege.
Introducing
The RC900
, a literally game-changing piece of athletic equipment that outfits your bowling ball with the awesome power of radio control, available now.
Imagine what would happen if university researchers turned to nobler pursuits, and prepare to never miss (or create) a 7-10 split again. You basically take the ball—size 14, so adjust accordingly—and set it down. (Rolling is for Luddites.) Then, twist the "activation key" and wait for the ball's green light to start blinking. But the last step is the most critical: pick up the remote, walk to the nearest concession stand, order a brew and then steer your bowling ball toward the pins while enjoying a cold one.
You'll get about 10 hours of continuous use—roughly enough time for a thousand RC frames, give or take. Just be warned: this little improvement to your game costs $1500.
But that's a small price to pay for PBA glory.