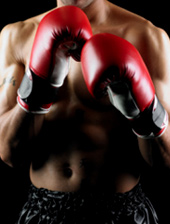 The ancient and mystical art of karate is not lost on you.
It's just sometimes that all the incoherent chanting, silent meditation and balletic choreography seems a bit ridiculous. Sometimes you just want to unleash the fury.
Submitted for your pugilistic approval: under-the-radar gym
Krav Maga of Washington DC
, teaching the stripped-down karate developed by the Israeli army and offering the best workout we've seen in some time.
As befitting the Israeli military (a no-nonsense bunch if ever there was one), Krav Maga is unconcerned with Eastern mysticism, finding your chakra or what Confucius said. As one of the instructors puts it, "We don't care how it looks as long as you kick your opponent in the groin as hard as possible."
And while we don't endorse unloading on anyone's groin, the workout you get along the way at the second-floor gym—full of military-style discipline (yes, you will drop and give them 20), leaping onto three-foot-high platforms until you black out and grappling on the ground for minutes at a time—may chisel you into a specimen that would-be adversaries prefer to avoid.
It's all designed to whip you into fighting shape, even if you're only fighting that
porterhouse
you had last night.
Trust us, meditation doesn't work in that fight.