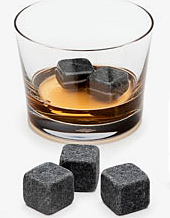 From time to time, you've been complimented on your stones.
But it never occurred to you to put them in your whisky.
Well, you should. Not those stones, though. These stones:
Teroforma Whisky Stones
, the old-school way to chill down your glass of scotch, now available in the North End.
Now, we realize the thought of putting rocks in your drink might be, frankly, a little disgusting. But you should know that these aren't just any stones. First of all, they've been washed. Second of all, they're Vermont soapstone, which have the unique, semi-magical ability to maintain warm and cool temperatures for extended periods of time. Third of all, they come from the oldest soapstone mill in the U.S.—this is like the Cooperstown of whisky stones.
So the next time you want to enjoy your dram with an ice cube that doesn't melt, pull a bag of these out of your freezer, drop two or three of them in, pause five minutes to let the magical Vermont ice-stones do their thing and then savor the sweet nectar of your whisky as you normally would, only without any fear of ice-cube dilution.
You don't have to be afraid anymore.