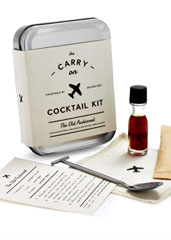 Soon: turkey.
Sooner: landing where the turkey is.
In between: mixing your own cocktails at 30,000 feet.
Make sure your seat is in the full upright position for the
Carry On Cocktail Kit
, a little tin case that magically transforms a bottle of airline liquor into a real-deal Old Fashioned, now available online and at the Boston Shaker.
So you'd like to kick back with a well-made drink in hand and contemplate how tiny everything looks down there. The obvious way to make that happen is to fix a cocktail at home and walk it through security.
But because no one's going to get away with that, this is the next best thing: a portable bar full of all the tools and ingredients you need to turn that airline nip of brown liquor into an Old Fashioned. Such as:
—Two packets of unrefined demerara sugar.
—Small-batch bitters from Brooklyn.
—A miniature stainless-steel bar spoon/muddler.
—A linen coaster.
—A recipe card in case you forgot to bring reading material.
Just add alcohol, and (magical sound effect)... Old Fashioneds for two.
Two. That's cute.