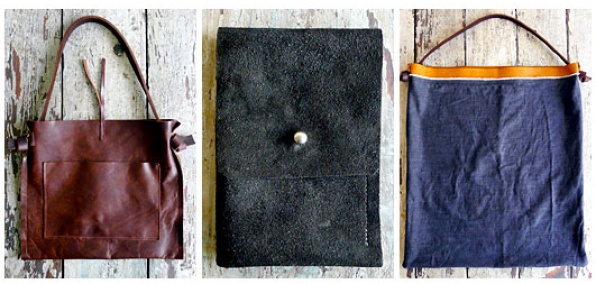 We don't know how you did it. Honestly.

All that time you spent transporting objects in not-one-of-these-bags.

The reign of terror ends now...

Help yourself to the splendors of Specialty Dry Goods, a one-woman operation churning out all manner of satchelry made from reclaimed leather and other terrific bag-making materials, available online now and at Good on Beacon Hill.

First, Meet Edie. Edie used to be an architect. But now she scours Los Angeles for the finest leather remnants from other manufacturers and turns them into bags and pouches so you don't have to.

The results: heavy-duty "feed bags" made from weathered leather or soft denim that would look right at home on a Civil War–era farm (but are probably just as good for exporting wine to the beach). Or some smart little pouches for giving shelter to your iPhone and assorted money.

And each of her objects is completely unique. In other words, if one sells out... it's out. But if you get in contact with Edie ahead of time, she'll send you photos of what materials she's working with and make you something similar to what you had your eye on.

You know how she is.