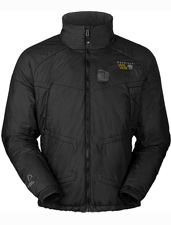 You're not going to want to hear this, but it's about to get cold out there.
And even worse, there's nothing you or we can do about it. But we can do the next best thing: recommend a good coat.
And not just any coat—one with power. A lot of power—in fact, enough for you and a little friend…
Introducing the
Refugium
, a new battery-powered jacket that can keep you fully warm and your gadgets fully charged, available now.
First off, the basics: this thing packs a battery that should keep you warm for nearly nine hours (or roughly three college football games endured in the flesh). It's stored in the back, below the neck, but isn't noticeable from the outside—or (more importantly) the inside. To turn up the heat, press a tab in the coat's chest, activating the battery to one of three settings, and then sending a hot tingle to your chest and back—in other words, the same feeling you get from watching Padma Lakshmi prowl around in
Top Chef
.
But because that's (evidently) not enough, this thing also has a hidden secret. Inside the side pockets (where your hands go) is a little gadget charger, designed to power your phone, iPod or whatever else you've smuggled onto the slopes.
A little liquid refreshment never hurt anyone.