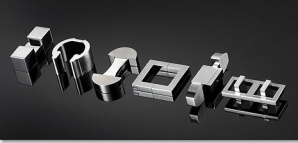 Revolutions are usually reserved for overthrowing despots and reforming states. Not cufflinks.

But with a radical design concept and service ethos, ArmRevolution, in preview starting tomorrow, is giving you a new reason to get excited about fastening your sleeves. Goodbye, buttons. The revolt is underway.

Currently available by appointment only in New York and London, ArmRevolution realizes that you don't want to go out of your way for cufflinks; they bring the goods to your home or office. You won't find anything like them on the wrists of the sterling silver t-bar crowd. Cut from Japanese steel, their look draws inspiration from architectural forms with a heavier feel (to make them noticeable, but not too noticeable). Of the six designs, our favorites are Design No. 9, a three piece flat bar that leaves a distinctive space between your two sleeve parts (more breathing room for your watch), and Design No. 10, a horseshoe-shaped link that fits snugly in your buttonholes. You know, in case you need a lucky charm.

But it's not just about the links (it never is). After you select your pair, they are individually etched with a serial number and hand-delivered in an impressive black and red box. This serial number grants you access to a new web community showcasing AR films (featuring the Bond-like AR Girls), early previews of new designs and invitations to members events that are less about dominating the world and more about networking with the French Cuff crowd. Call it the cufflink underground.

Vive la (arm) revolution.