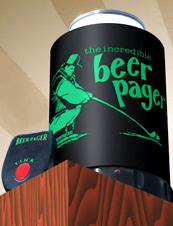 From the bottle opener to the
beer holster
, beer technology has given us one earth-shattering, revolutionary leap forward after another. And every time we think we've reached the pinnacle, one more brilliant revolution comes along to further elevate the sweet delicious nectar of the gods.
In that vein, allow us to present to you what we believe to be the next great leap in human capability.
It's called the
Beer Pager
, and it pages your beer.
Please, remain calm.
True, this might look like your average dime-store koozie, but don't be fooled by its simple good looks. Beneath the humble exterior lurks a brew-based revolution in the form of a remote-controlled electronic base. So the next time you're taking 12 ounces of precious Schlitz into a bustling, multi-beer environment, slip your can into this technological wonder and, should you lose track of your beverage a little later in the evening, just push the little red button on the remote control (hereafter referred to as the "beer button") and your can will light up and emit a sound of your choice like an exceedingly polite car alarm.
In other words, a well-timed press of the beer button should excuse you from all awkward beer searches and cases of mistaken can identity. Ladies and gentlemen, the future is now.
Suck on that, Twitter.