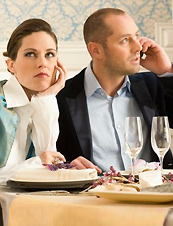 We're going to go out on a limb here and guess that you'd rather be somewhere other than where you are right now...
But, there you sit, in front of your monitor and a pile of documents, thinking about laying out in the sun, thinking about a trip to Belize, thinking about what a huge mistake the extra bottle of Barolo was last night.
We're not saying you're not good enough to get out of this on your own, but you might want to consider downloading
Got2Go
, a new iPhone app dedicated to the overlooked art of social extraction, available now.
And while it might be able to get you out of today's afternoon meeting, nowhere does this little guy work better than if you're on a bad date—simply head to the bathroom, open up the app and from there, you're just a few minutes away from freedom.
The app gives you the option of selecting the level of emergency, the time frame for the call/text (5min should seem natural enough, although if you need more buffer you can go up to 30) and the type of notification (voice mail or text). Then, you will say "strange, I wonder why my neighbor Tom is calling... as both of you sit there and listen in horror as Tom explains that there are a bunch of fire trucks outside your building and you need to get home immediately to save your cat.
Thank you, Tom...