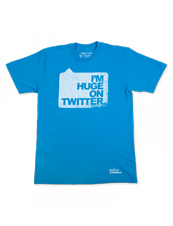 Anyone can make a fashion statement.
The real challenge is doing it in 140 characters or less.
That's why we'd like to introduce you to
Twitter Tees
, the latest innovation from your friends at Chicago T-shirt purveyor Threadless.
You're already familiar with the brand's uniquely democratic approach to the graphic tee: you submit a design to its website, which allows discerning tastemakers to vote on what they like the most. The Threadless team then chooses from the top vote getters and transforms them into real, live T-shirts. And now—like everyone from Iranian revolutionaries to your kid sister—they're wading into the Twitter stream for inspiration.
Just log in to the Twitter Tee site with your existing Twitter account and begin dropping 140-character bons mots like you normally do. Now, however, you'll be able to give other users the chance to decide whether your acute observations on life, love or Ahmadinejad's vote count need a bigger stage—the stage only a 100 percent cotton T-shirt can provide.
If it makes the great leap to from ASCII to cotton, you'll receive $500. You can even recommend your friends' textual cleverness—and receive $140 if one's chosen for a T-shirt.
Good thing you know such a lively bunch of characters.