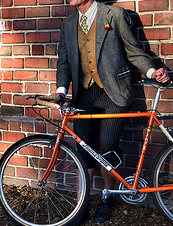 We know how it is: office attire and cycling clothes don't mix.
And while we've found
bike-to-work pants
that'll transcend both realms, we've been at a loss for more formal occasions, until now…
Say hello to the Oakland-based Nan Eastep, aka the B. Spoke Tailor, crafting
Bespoke Bike Suits
that'll take you from the bike lane to the boardroom to martinis at Boulevard seamlessly, available now by appointment.
We can see how you'd think biking in a business suit would be beyond uncomfortable, but that's exactly why these custom-made pieces stand out. Since Nan was a tailor first—and is a cyclist herself (she's made suits for master bike-maker Gary Fisher)—she's fine-tuned the design with subtle riding-friendly details that are virtually undetectable to the naked eye.
First, the suits are made of wool (the original moisture-wicking fabric) or Lumatwill, a waterproof tweed made of wool, reflective yarn and Teflon (considered the chain mail of the 21st century). Then the jacket's stuffing is double-layered to block wind and the pants have a tab that secures the cuff away from the chain while pedaling.
Other seemingly minute nuances—like lengthening the lapel so it can cross over your neck for warmth, sewing roomier elbows to free up your arms and adding a back vent to the jacket so you don't sit on it when you ride—just show off her tailoring prowess.
Sort of like yours on the open road.