About halfway through his new bus tour, it becomes clear: Steve Dolinsky literally can't stop talking about pizza.
Over three-and-a-half hours, four stops and many a tasty slice, the longtime ABC 7—Chicago food reporter maintains a running pizza commentary, spouting off impressive factoids (like, say, the exact circumference of the average pepperoni), historical anecdotes (did you know a car crashed through the window the day the first Lou Malnati's opened?), glib asides (you may not want take this tour if you're loyal to Giordano's) and an ongoing list of recommendations. His knowledge of the city's diverse pizza culture is overwhelming, overflowing, his eagerness to share it with us more redolent of an enthusiast than an expert. He comes across as a nut, at least when it comes to pizza.
But this is Chicago. And we're all kind of nutty when it comes to pizza.
You may know Dolinsky by his on-screen alias, the "Hungry Hound." His pictures hang in the entryway of many Chicago restaurants, autographed and framed. If you don't watch the local news, there's a chance you've caught him doing his thing on the small screen in the backseat of a cab, on the way home from a bar or the airport. With 13 James Beard Awards for food journalism, a popular podcast with Chef Rick Bayless, a robust website and an insatiable appetite, Dolinsky is a ubiquitous presence on the Chicago food scene.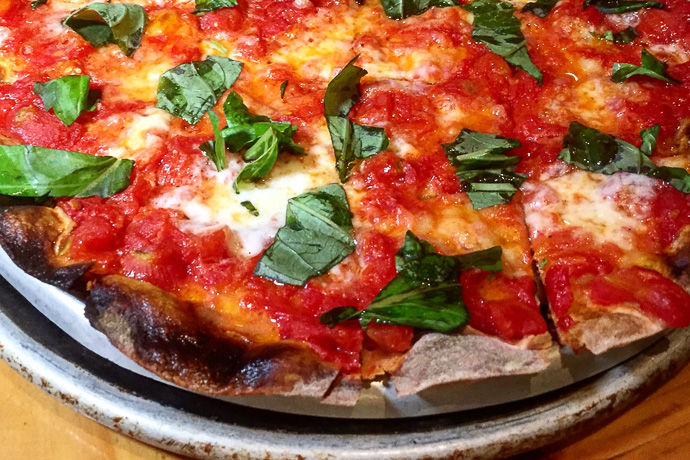 Which brings us back to pizza. Several years ago, Dolinsky set out to write the definitive book on Chicago pizza. For him, the sheer number of different pizzerias Chicagoans patronize, the sheer variety of pizzas they eat and the sheer zeal with which they eat it, sets this fair city apart from even the most celebrated pizza towns. Called Pizza City, USA: 101 Reasons Why Chicago Is America's Greatest Pizza Town, the book recommends 101 pizzas in the Chicagoland area (it will be published this September).
To get to 101 recommendable spots, Dolinsky had to try 185 different pizzas. The methodology he used was relatively simple: he ordered a half-sausage/half-pepperoni pie at every location—unless it was a Neapolitan place, in which case, he ordered a traditional Margherita. Then he ate said pie (presumably, he was willing to share). Along the way, he honed several pseudo-scientific terms, including OBR, or "Optimal Bite Ratio," which he describes thusly: "It's that perfect harmony and balance in every bite. You get a bit of sauce, cheese, dough and topping. Nothing overwhelms your palate and you don't get a mouthful of cheese or dough."
Another term, PIGUE syndrome, or "Pizza I Grew Up Eating" syndrome, refers to the entrenched biases one might feel for the pizza that formed their conception of pizza. Dolinsky considers himself exempt from those biases, given that he's a Chicago transplant from Minnesota. (Some of the worst cases of PIGUE, according to Dolinsky, can be observed in those who grew up eating Barnaby's in Northbrook and Aurelio's in Homewood.)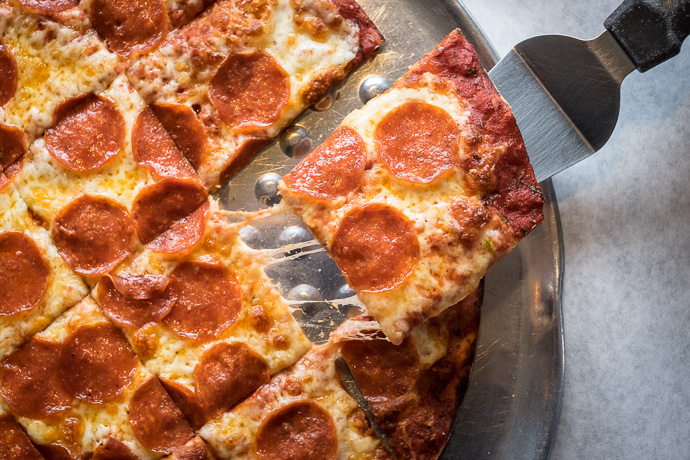 Armed with his unparalleled expertise, Dolinsky and his wife, Amy, launched Pizza City, USA, a series of pizza-centric tours, including walking tours in Wicker Park/Bucktown and the West Loop, as well as a "Sunday Hangover Pizza Crawl." Every tour showcases four different styles of pizza at some of Dolinsky's favorite places. (There are 10 styles total in Chicago: deep-dish, stuffed, artisan, tavern, thin, NYC, Sicilian, Detroit, Neapolitan and Roman al Taglio, which Dolinsky predicts will be the next big thing in Chicago, on the heels of Bonci's success.) All of the tours run on a weekly basis through October and you can book them online.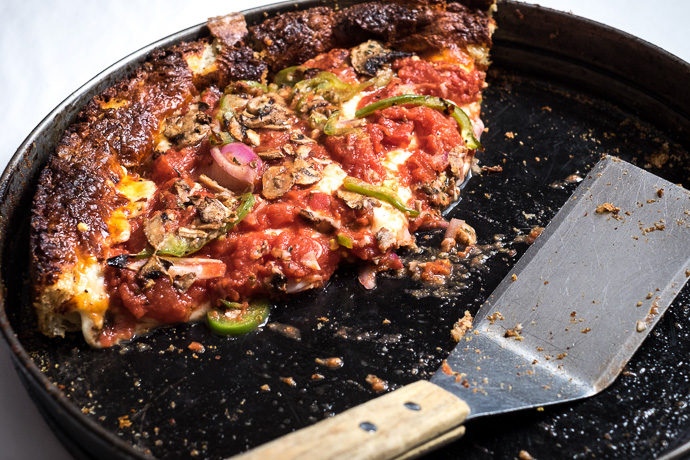 Dolinsky himself leads the Saturday bus tour, which begins in the back room of Labriola, on the Magnificent Mile. A sign outside advertises it as the #1 deep-dish in Chicago, according to—you guessed it—Steve Dolinsky. The reporter's views on Chicago deep-dish may come as incendiary to some: though he's a strong proponent of the ever-popular Lou Malnati's, he did not recommend two classics—Uno's, which invented deep-dish in 1943, and Giordano's, which is technically considered "stuffed"—in his book. Non-locals, he says, tend to consider Chicago a strictly deep-dish town; the tour is designed in part to prove—to tourists and Chicagoans alike—that that's not the case. And given how loyal Chicagoans are to their pizza, deep-dish and otherwise, it's likely you won't have tried a majority of the pies on his tours.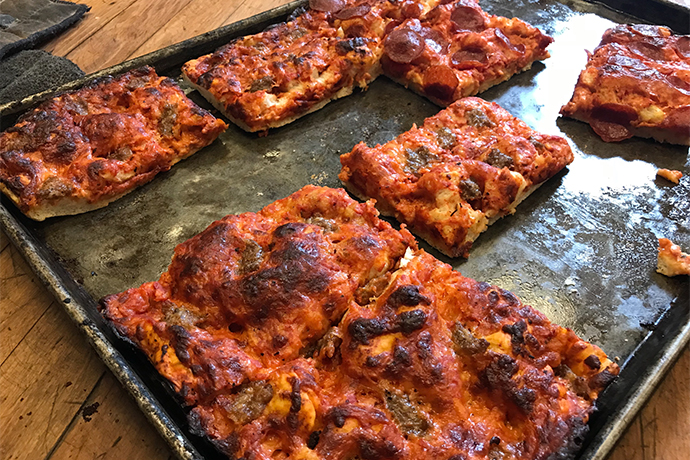 On Saturday, after a slice of Labriola's deep dish (nice little kick, lovely caramelized crust) the 10 or so other participants and I travel by bus to Pizzeria Bebu for an exquisite artisan pie from a Lettuce Entertain You vet. Then it's on to Pat's Pizzeria, a Lakeview staple for tavern-style thin-crust, which Dolinsky makes no effort to conceal his affection for. Originating in working class neighborhood bars as a snack for patrons to hold in one hand with a beer in another, the tavern pizza's hallmark is a super thin, cracker-like crust. Pat's pizza is near perfect, and its Supreme, to Dolinsky, is a rare exception to his rule that a pizza should have no more than a few toppings. (On the question of whether extra condiments like BBQ sauce or ranch have any place on pizza, he is firmly opposed.)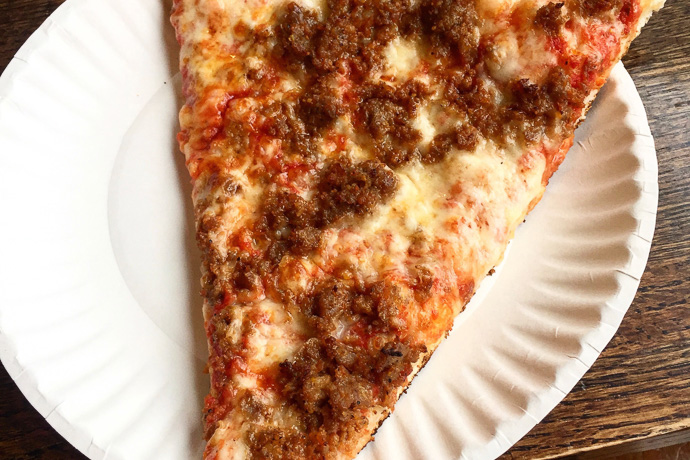 Dante's in Logan Square is our last stop. Their NYC-style slices are giant, and even though I'm as full of pizza as an 11-year-old at his first bowling birthday party, I power through because it's delicious and I'm a sucker for garlic butter, which they rub on the pizza's heel. Some others in the group take selfies; I order a ginger ale in the hopes that it will palliate whatever's ailing my poor tummy.
The man in charge, meanwhile, seems unfazed by the amount of pizza he's consumed. Actually, he's glowing; unlike the rest of us, he's not at all showing the telltale signs of really-needing-to-lie-down. I'm fairly certain he's more awake than he was at the beginning of the tour, which doesn't seem humanly impossible. It's hardly cause for concern, though. I imagine this is simply the kind of thing you can pull off when you've eaten as much pizza as Steve Dolinsky.