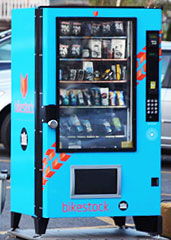 It's late.
You've come across a mysterious machine.
It offers goods for money.
What are those goods?
A) Home fermentation kits.
B) Topographical maps of pre-WWI Europe.
C) Unpublished Malcolm Gladwell manuscripts.
D) Spare parts for your bike.
To your great relief, it's D. Also known as
Bikestock
, a 24/7 machine that gives you vital bike gear like brake pads and locks but also phone chargers and chocolate whenever you feed it money, now available in Boston and Somerville.
Yes, you currently live in a world with bike-specific vending machines, just like Jules Verne predicted. There are two: one outside of the Whole Foods in Somerville, the other outside of the Whole Foods in the South End. These people know their demographic.
This will come in handy when you've blown out a tube during a post-festival commute. Or you desperately need a patch kit and some rim tape at 4:37am. Or you just want to procure some chocolate and a pair of headphones, but not from an actual human.
No disrespect to actual humans.