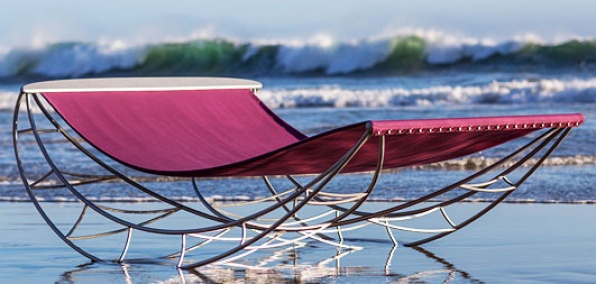 Good afternoon, and welcome to the UrbanDaddy Relaxation Minute.

In focus today: hammocks. More specifically: rocking hammocks from Sveglio, a new Big Sur–based maker of all things sleek, modern and unimaginably lounge-worthy, available online now.

Here to talk leather, lounging and romance languages, we've got Raymond, a beautiful magenta hammock.

UD: So, how long have you been a freestanding, two-person rocking hammock?
Raymond: For about as long as I can remember.

UD: Tell us about yourself?
R: I'm all-American steel assembled in California, and my soft middle comes in six colors. Denim, iris, canvas...

UD: Let's say we wanted you to be leather, with a built-in pillow instead.
R: I'm happy to be that for you, too.

UD: Nice. Hit us with a fun fact, Raymond.
R: Well, I speak Italian.

UD: Wow.
R: Yeah. They call my type of hammock the Volo, which means "I fly." I don't, but the idea is that people will lie on me and feel similar sensations.

UD: Lovely. Any siblings?
R: Sure. A brother. He's a Vibro, which means "I vibrate." And he does. He's a chair made of thoughtfully spaced teak slats.

UD: Any plans this weekend?
R: Hopefully I'll be placed somewhere scenic.

UD: Same. Anyway, we named you Raymond.
R: You really did do that.