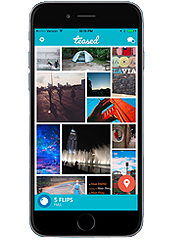 For once you're getting introduced to someone new...
Without seeing a headshot first.
Thanks, technology.
Consider having a drink with
Teased
, an intrepid app that won't show the faces of potential matches until you get to know them a little bit first, thereby eradicating all traces of superficiality from the virtual world or maybe not—it's available now for iPhone.
Right, so what you wouldn't see at first is endless pictures of nice-looking humans. But you might see pictures of surfboards and Old Fashioneds, which are pictures of things that potentially nice-looking humans have posted. Because they like those things.
Click on, oh, let's say the drink. Feel thirsty. Also, you're now in the profile of the person who liked that thing, and you're looking at more stuff this person is into. Exotic islands, maybe. Margaritas. Dogs out passenger-side windows? So it's sort of like a Pinterest board. Now... now's the point when you can flip this page to get a look at who's behind it. It's not a swipe. It's a flip.
Totally different.