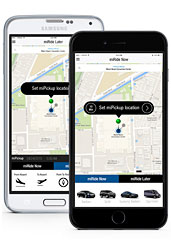 Your options for heading to a business lunch in Downtown:
1. Drive yourself.
2. Take a cyborg horse.
3. Have a chauffeur roll up in a Rolls-Royce.
Seeing as how number two might be stuck in development for a while... here's
MiRide
. It's a new app that'll summon a suit-and-tie-clad chauffeur to your whereabouts at a moment's notice. And it's now available in Miami for iPhone and Android.
You'll want to draw the obvious comparisons to that other app that rhymes with "Muber." Because, sure. It summons a car. The car takes you places. Except said car is an Escalade with an honest-to-God chauffeur sporting a suit. So there's that.
See, it's strictly black-car service here. Mercedes-Benz, BMW, the aforementioned Escalade. All driven by folks who are licensed to chauffeur people around. So if you're thinking this might come in handy when ushering a notoriously hard-to-impress client to a business lunch at Cipriani: well, right-o.
There's also a "ride later" feature where you can book rides up to a couple of weeks out. And for that, you've got a few choices to make. Namely: Rolls-Royce, Sprinter or minibus.
Someone's got to make the tough calls.