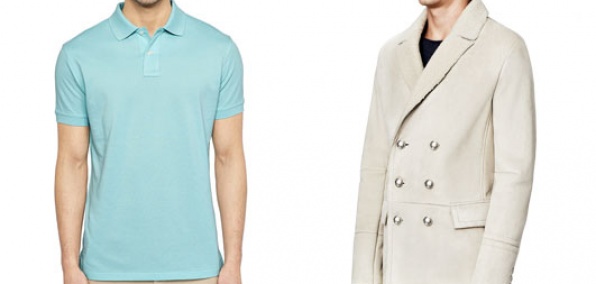 You don't mind when a box tightly packed with handsome clothes randomly lands on your doorstep.
So we assume it'll be okay when that happens twice.
Meet
Feldspar Brook
and
Jeffrey Rüdes
, two unrelated but simultaneously handsome-inducing new online shops (both of which just opened brick-and-mortar stores in New York City), now online.
1. You'll only find one thing from Feldspar Brook (pictured left).
Go ahead, guess. If you guessed a fine-looking polo shirt, congratulations. You've used your eyeballs,
and maybe your memory
.
The very classic stats: French seams (so, they're flat), pima cotton (it's a soft one) and two buttons (it's just the right amount). And they pretty much come in every color that exists.
No, they didn't forget banana cream.
2. And for when you need other things, there's Jeffrey Rüdes.
This new site's got a bunch of nice stuff, but there's a strong focus on things you'll wear when it's not 90 degrees out.
One day, you'll have more days like that.
It's all from the guy who started that jean company J Brand (and
this is the new NYC store
, if you're in the area), so you can click around here when you need some jeans, too.
But about those jackets: short lambskin-suede jackets, velvet dinner jackets, double-breasted peak-lapel jackets, shearling peacoats...
They're almost like jackets.