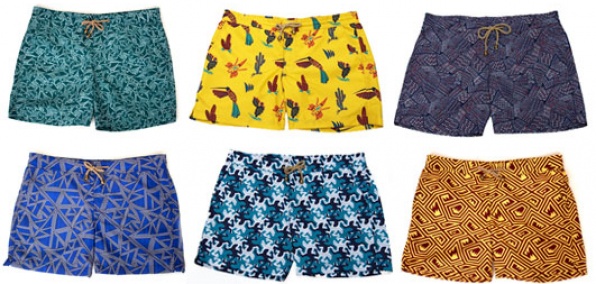 You might seek out a surfer for wisdom on what to wear in the water. Makes sense.

Or a tailor. Sure.

Or an Australian. Australians seem like they'd have opinions on the subject.

Or... you could turn to Thorsun, the new purveyor of patterned and printed and just generally very attractive swim trunks made in New York City. They're available now.

And they were dreamt up by this Australian surfer/tailor who is clearly obsessed with artfully patterned waterproof shorts. So that's what was going on up above earlier.

Anyway, the cut is this tailored, slim-fitting, short-but-not-too-short situation. The kind of trunks you could wear to a rooftop pool party. Or to a beach. Or on a day when the idea of a rooftop pool party or a beach is not out of the question.

So, depending on where you're heading, consider your color-and-pattern options: everything from sort of subdued geometric circles to a less subdued Picasso-esque wave design to... a bright-yellow Mexican-Hawaiian option that involves various cacti and exotic desert birds.

That there's the wild card.