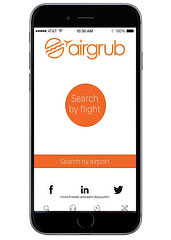 Basic travel rules:
Reach the airport an hour before your flight.
Place all gels and liquids in a clear plastic bag.
Make sure a lobster roll is waiting for you.
Looks like you still need
AirGrub
, a new app for ordering lobster rolls and jumbo pretzels and other delicious foodstuffs that will be waiting for you the moment you make it past security, now available for iPhone and Android.
They've launched at Logan with Harpoon Brewery, Fresh City and... Friendly's (yep, still a thing). But there's way more to come soon. And here's a play-by-play of how to put it in action:
—Download it, because you have to download it.
—Have a journey that requires sustenance of the non-peanut variety before embarking.
—Open the app, and enter your terminal and what time you'll be passing through it.
—Browse menus and make a selection. Say, a bacon-and-cheese panini. Or a mango-and-pineapple smoothie. They won't judge.
—Once you've made it through security, proceed to your selected eatery. There, your food awaits pickup by the dedicated AirGrub sign. You already paid by app, so you can just grab it and run.
We'll also accept "fly."